Valuing our people
With our strong positions in creative and technology businesses, Pearson is a company that is especially dependent on the skills and imagination of its people. By hiring, nurturing and keeping the very best, we believe we can build a community of people with a common interest in achieving their own potential and supporting the development of the company.
We have an array of programmes to foster this – more than 50% of our people are shareholders in Pearson through participating in our employee share plans. We have a Group level health and safety policy, with numerous awareness days and other good practice examples across our offices, and we offer a variety of programmes to enable people to find a balance between their personal and professional lives. We also know the best ideas often come from our own people, so each operating company continues to ask its people for ideas, suggestions and constructive criticism to improve the way we work. We want to be the best possible company to work for and we endeavour to provide salaries, benefits, incentive plans and opportunities that rival those offered by our competitors.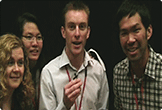 Fast fact:
Love & Tate Skills Match
The FT takes part in the Love & Tate Skills Match programme in London, giving young people from in and around the economically diverse borough of Tower Hamlets new skills and valuable work experience: this has led to several individuals later being hired in roles across Pearson.