Balancing life and work
We feel that people are most effective at work when they have the flexibility, tools and resources to manage their personal lives. We work hard to keep our people fulfilled in their roles, giving them opportunities to increase their skills, to take on international projects and move between businesses, and to balance their professional and personal lives. We follow a set of global principles to guide how we reward our people that go beyond the issue of salary. These principles include providing compelling health, welfare and retirement benefits for all our staff to help them make the right choices for themselves and their families, providing locally competitive pay that recognises the relevant recruitment market, business sector and geographic region; using incentives to drive performance; and recognising the contribution of all our people. Each of our people has unique needs and we offer a variety of programmes and initiatives to complement these. Examples include flexible work arrangements, telework assignments, employee assistance programmes, back-up care for children and adult dependants, personal planning advice for elder care, sabbaticals, summer hours and convenience services. We know that our people are more likely to stay with our company if their role can evolve alongside any changes in their personal circumstances, and we will go out of our way to protect our most important assets.
Snapshots from 2009
100 Best Companies for Working Mothers
Pearson was included in the 100 Best Companies for Working Mothers list for the ninth time in ten years in 2009. This annual programme assesses companies on workforce profile, benefits, women's issues and advancement, child care, flexible work, parental leave and company culture: Pearson was commended for flexibility, our comprehensive resource and referral programme, and our Backup Care Connection programme, which covers dependent adults as well as children.


Morning/lunchtime walking
At Pearson Southern Africa, the newly formed Health and Wellness committee instigated a morning/lunchtime walking programme with the aim of encouraging a daily or weekly outside walk nearby the office for a variety of routes and distances to suit all.


Penguin UK has invested significant resources in creating an ergonomic, attractive workspace for our people, including sharing of river views, break out and common spaces, to produce a layout and furniture that is fit for purpose (including customising where appropriate). We also have controllable heating and lighting, surrounding aesthetics such as artwork and plants, regular upgrades of IT kit.
Focus on:
Health and well-being
Our People departments have focused particularly on the health and well-being of Pearson people this year, with several businesses highlighting Pearson-subsidised promotions and opportunities available to staff. We encourage our people to stay fit, eat well and balance their professional and personal lives.
Pearson Benefits in the US sponsored National Employee Health & Fitness Day in May 2009. All US facilities with 50 or more people participated in onsite biometric screenings. The results were available immediately and over 2,300 staff had an opportunity to participate and discuss their numbers with onsite nurse educators.

WeightWatchers At Pearson in the UK, additional benefits will be in place for 2010 including a WeightWatchers programme in the workplace, health assessments and two online health management programmes to help anyone seeking to reduce high blood pressure, combat raised cholesterol or manage their health more effectively. 600 staff in the US already take part in our WeightWatchers at work programme.
Penguin UK's Learning and Development team ran dedicated work-life balance workshops as part of their training and workshop schedule. Penguin Australia included a 'Personal Effectiveness' workshop in its Training and Development suite, designed to increase effectiveness in all aspects of life – personal and professional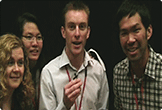 Fast fact:
Love & Tate Skills Match
The FT takes part in the Love & Tate Skills Match programme in London, giving young people from in and around the economically diverse borough of Tower Hamlets new skills and valuable work experience: this has led to several individuals later being hired in roles across Pearson.