Building our community

We aim to attract, take on and promote the most talented people who're right for the job, irrespective of race, gender, age, physical ability, religion or belief, sexual orientation, marital/civil partnership status or any other criteria not specifically related to relevant aptitudes, potential, skills and abilities. Increasing our diversity is a business imperative – we believe that as an international company, a workforce where differences are valued and respected is vital to our future, and we want minds and imaginations from as broad a base as possible right across company. We know that maintaining excellent channels of communication is central to making all those voices heard, contributing in turn to the motivation, the pride and the sense of ownership people feel about their role at Pearson. It is also crucial for pulling the best potential people in and encouraging them to stay with us, so we continue to encourage our people to interact across departments and businesses using informal social networks as well as providing formal intranets, regular newsletters and annual large presentations from senior managers to staff around the world. We want to reflect the societies in which we operate: we don't set specific targets, but our continued goal is to have diversity at the heart of everything we do, and to be the best in our industry for diversity. We have dedicated Diversity and Inclusion Teams and Councils in both the US and the UK, a senior member of staff at each Pearson company who acts as a Diversity Champion, and a widely publicised set of initiatives communicated on internal intranets and through the Diversity and Inclusion website.

Watch our 'Why choose Pearson?' video to hear from a cross‑section of staff at Pearson talk about what initially attracted them to Pearson, and what keeps them excited about their work.
Snapshots from 2009
Getting into Publishing, Penguin UK's annual open day for students and recent graduates was held by the Diversity and Inclusion team in November 2009 at Pearson's London headquarters. Now in its sixth year, the day featured presentations from departments across Penguin and networking opportunities with Penguin staff for the 70 attending students. The video of the 2008 event is featured on YouTube.
Our businesses can talk to each other, our customers and other external stakeholders more than ever before, with most parts of our business using several social media platforms. We are turning increasingly to such social media platforms, both internal and external, to increase the efficiency of our communications across the company and to engage customers in the design and development of our products.

The segment of our workforce from a minority ethnic background has increased every year to over 14% in 2008, up from 9% five years ago. In the US, that segment has grown from 15.7% in 2005 to 19.9% in 2008, with a 2% increase in minority managers, to 12% of the team. UK managers of minority backgrounds represent 11% of the team.
FTSE100 Executive Women Award In 2009 Pearson landed this award from Opportunity Now, the foremost UK benchmark for gender equality, diversity and inclusion. This index is published annually by Cranfield International Centre for Women Leaders at Cranfield School of Management.
Pearson Rainbow Network
The Pearson Rainbow Network (UK) took part in London's Pride Festival for the first time in July 2009, celebrating lesbian, gay, bisexual and transgender culture in the city. The network, supported by the Diversity and Inclusion team, aims to support LGBT staff and raise awareness of relevant issues.


The Helen Fraser Fellowship In December 2009, Penguin UK announced the launch of this fellowship to honour the work that Helen Fraser, the recently retired Managing Director of Penguin Books UK, had done to champion diversity within the company. The Fellowship aims to identify, encourage and train editorial talent within Britain's black and minority ethnic communities.
Global Equity Organization Judges' Award
Following the 2008 launch of our WorldWide Save for Shares plan in 63 countries and our innovative ShareStore, July 2009 saw us win a Global Equity Organization Judges' Award for our longstanding commitment to international employee share ownership. Judges were impressed by the extensive two-way communications platform Pearson established, and the fact that feedback provided by plan participants was used to tailor our programmes for greater success. Modelled on the UK Save As You Earn scheme, we have offered Save For Shares to our UK people since the 1980s and to our international staff since 1998.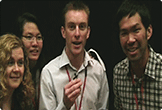 Fast fact:
Love & Tate Skills Match
The FT takes part in the Love & Tate Skills Match programme in London, giving young people from in and around the economically diverse borough of Tower Hamlets new skills and valuable work experience: this has led to several individuals later being hired in roles across Pearson.