The Pearson Foundation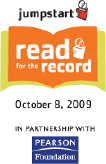 Founded in 2004, our Foundation has continued to go from strength to strength in seeking out partners, creating new initiatives and touching the lives of thousands of young people, families and educators the world over. It allows us to promote literacy, learning, and great teaching internationally, bringing together other leading businesses, not-for-profit organisations and experts to share good practice, to foster innovation and try to find workable solutions to the educational disadvantage facing millions of young people and adults across the globe. Our US literacy campaign, Jumpstart's Read for the Record continued to expand in 2009; Pearson people again helped set a new world record for the largest 'shared reading experience' with over 2 million participants registered across the world to read the official campaign book, Eric Carle's The Very Hungry Caterpillar. In conjunction with this year's campaign, we also commissioned the first Pearson Foundation Early Childhood Education Perception poll, exploring Americans' perceptions surrounding the reading inequality gap that exists between children in low-income homes and their more affluent peers. We found that far too few Americans understand how essential early childhood literacy skills are to a life of sustained learning and success. Although the Foundation is based in the US, we support projects on every continent and work with colleagues at Pearson and elsewhere to research and address the many issues facing the future of education, including the 72 million children who do not currently go to school at all.
Snapshots from 2009
What we do

Mobile Learning Institute Leadership Summits
Alongside Nokia, we launched new Mobile Learning Institute Leadership Summits to introduce local education leaders to innovative learning approaches that are being made possible by the latest mobile and digital technologies. In 2009, these intensive workshops took place in Cape Town, Chicago, Dar Es Salaam, Los Angeles, Mexico City, Nairobi, New York City and San Francisco.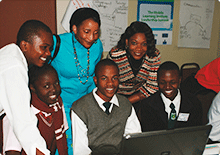 PeaceJam: Global Call to Action Following the 2008 launch of this Challenge, a student-designed recycling project that reduced waste by 70% and energy consumption by 14% at Ponderosa High School in Colorado, US has been named as the first winner. In recognition of their efforts, the student body received a congratulatory visit from Nobel Peace Prize winner Rigoberta Menchú Tum.
Together with the non-profit youth voter registration organisation Declare Yourself, we launched the Pearson Foundation Declaration of Independence Tour. Until early 2010, one of the few remaining copies of the original Declaration of Independence will be the centrepiece of civic celebrations that bring history to young people and communities in six US states: Arizona, California, Florida, Illinois, New Jersey and Texas.

We continued our sponsorship of the Citi-FT Financial Education Summit, an annual financial education conference presented by the Pearson Foundation, the FT and the Citi Foundation. The 2009 summit in Singapore gave international representatives from NGOs, businesses and civic organisations another opportunity to share best practices and explore ways in which financial literacy plays a critical role in promoting sustainable economic development around the world.

Focus on:
Developing the Pearson Prize
The US Pearson Student Advisory Board (PSAB) 2008 came up with an idea to enable Pearson to give back to the communities of our student customers – the Pearson Student Activity Fund. We piloted the fund at two universities, allocating $2,000 per school so that student organisations could apply to receive a grant of up to $500, before opening up the fund to 11 universities during the 2008-09 academic year.

Applications were primarily submitted by students with strong social entrepreneurship. When the new cadre of the PSAB joined in 2009, the Pearson Foundation wanted to establish how we could publicly recognise students who were the driving forces of social entrepreneurship in their community. We suspended the Pearson Student Activity fund and enlisted the help of the Foundation to work with PSAB to start working on the Pearson Prize for Higher Education.
The Pearson Prize will start in 2010 as a two-year award to support up to 70 students already at university and making a difference through community service. Twenty Pearson Prize Scholars will receive $10,000, paid over two years, while Pearson Prize Grantees will receive $500, awarded in a single year. We will use a social media platform – the Pearson Foundation Youth Voices initiative – to connect prize recipients with other past and current Pearson Prize winners for a support network, and to inspire other young people. The official launch from the Foundation and Pearson Students will take place in 2010.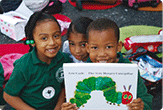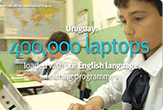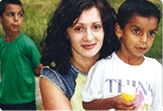 Fast fact:
Penguin Group staff fundraising
Penguin Group UK staff raised more than £66,000 in 2009 (not including company matched funds), benefiting charitable groups for health (£21,000), social welfare (£15,000), education (£4,300), the arts and emergency relief. Penguin Group International staff raised more than $122,000 (US) in 2009 (not including company matched funds).